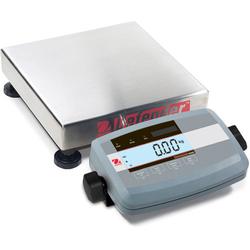 Smart Functionality, Durability, OHAUS Quality and Value
The OHAUS DefenderTM 5000 Series is a feature-rich line of bench scales, combining an ABS plastic T51P indicator with painted steel bases and mounting brackets. Ideal for shipping and receiving, production, packaging and general commercial and industrial weighing applications, the Defender 5000 offers a multifunctional indicator with multiple weighing units and software modes to meet the requirements of industrial and lab applications. With rugged construction, comprehensive yet intuitive software and multiple connectivity options, the Defender 5000 can meet the needs of demanding industrial operations.
Standard Features Include:

Painted steel bases with ABS indicator
10,000-12,500d default resolution for square bases, 5,000-7,500d default resolution for rectangular bases
1:5,000 NTEP Certified / Measurement Canada Approved for square bases, up to 1:3,000 for rectangular bases
Quick display of results using large LCD with high-contrast white backlight
Temporary display of 10x readability in weighing mode using quick key press
Easy to operate with 4-key membrane keypad with raised tactile keys
Weighs in one or more units: kg, g, lb, oz, lb:oz (decimal), metric tonnes and user-definable custom unit
Multiple weighing modes including Counting, Percent Weighing, Dynamic/Animal Weighing, Checkweighing, and Display Hold.
Internal power supply with universal line cord or 6 "C" batteries (80 hour battery life) – optional NiMH internal rechargeable power pack available
Includes RS232 interface with GMP/GLP data output including date and time
Base and indicator connected using quick connect plug
Optional interfaces include DC relay control kit, AC relay control kit, 2nd RS232 and RS485/422
Features
T51P Indicator: ABS plastic housing with internal rib reinforcements, reversible rear cover, backlit LCD weight display, checkweighing indication (green, yellow, red), membrane keypad with raised tactile keys, built-in bi-directional RS232 with manual/ continuous/interval printing, external tare input, hardware configuration lockout switch, internal switching power supply with line cord and battery power using 6 "C" cell batteries.
Other Features
Zero point calibration, calibration test, span or linear calibration, selectable auto-zero tracking range, selectable stability range, selectable averaging level, selectable LCD backlight, selectable auto shutoff, retain zero weight data after power-off, Geo gravity adjustment, selectable key beep, key function lock, menu lock, selectable power-on and calibration unit, battery status display, display of gross/net weight, indication of stability, center of zero, over- and underweight, overload and underload conditions. Configuration menus for PRINT1, PRINT2, COM1, COM2, and I/O.
Compliance
Legal for Trade: NTEP (CC No. 08-039 for indicator; 01-048A1 for square base; 99-203A3 for rectangular base) Measurement Canada (Approval No. AM-5687 for Indicator; AM-5719 for square bases; AM-5675 for rectangular bases)
Safety and EMC: cULus 2005/95/EC low voltage directive: EN60950-1:2001, FCC Part 15 Class A 2004/108/EC Compliant to Directive 202/96/EC on waste electrical and electronic equipment (WEEE)
Quality: OHAUS quality management system registered to ISO 9001:2008
Low-Profile Square Scales
Model Number

D51P10QR5
D51P25QR5
D51P50QL5
D51P100QL5
D51P250QX5
$928.40

$928.40

$1,034.30

$1,034.30

$1,457.87


Capacity x Default Readability

25 lb x 0.002 lb
50 lb x 0.005 lb
100 lb x 0.01 lb
250 lb x 0.02 lb
500 lb x 0.05 lb
400 oz x 0.05 oz
800 oz x 0.1 oz
1600 oz x 0.2 oz
4000 oz x .5 oz
8000 oz x 1 oz
25 lb : 0.05 oz
50 lb x 0.1 oz
160 lb : 0.2 oz
250 lb : .5 oz
500 lb : 1 oz
10 kg x 0.001 kg
25 kg x 0.002 kg
50 kg x 0.005 kg
100 kg x 0.01 kg
250 kg x 0.02 kg
10,000 g x 1 g
25,000 g x 2 g
50,000 g x 5 g
100,000 g x 10 g
250,000 g x 20 g

Platform Size

12 X 12 X 3.8 in
30 X 30 X 10 cm
18 X 18 X 3.75 in
45 X 45 X 10.4 cm
24 X 24 X 5 in
60 X 60 X 12.7 cm

Maximum Displayed Resolution

1:10000
1:12500
1:10000
1:10000
1:12500

Legal for Trade

NTEP CC No. 08-039 for indicator- CC No. 01-048A1 for base
Measurement Canada ApprovalNo. AM-5687 for Indicator - No. AM-5719 for base

Capacity x Certified/Approved Readability

25 lb x 0.005 lb
50 lb x 0.01 lb
100 lb x 0.02 lb
250 lb x 0.05 lb
500 lb x 0.10 lb
10 kg x 0.002 kg
25 kg x 0.005 kg
50 kg x 0.01 kg
100 kg x 0.02 kg
250 kg x 0.05 kg

Maximum Certified Resolution

1:5000
1:5000
1:5000
1:5000
1:5000
Safe Overload Capacity
150% of maximum capacity

Shipping Dimensions
(L x W x H)

19.3 x 16.1 x 17.3 in
490 x 410 x 440 mm
31.2 x 23.6 x 9.5 in
810 x 600 x 240 mm
39.4 x 29.9 x 9.8 in
1000 x 760 x 250 mm
Net Weight
30.6 lb / 13.9 kg
63.7 lb / 28.9 kg
80.9 lb / 36.7 kg
Shipping Weight
35.9 lb / 16.3 kg
68.5 lb / 31.1 kg
95.0 lb / 43.1 kg
Indicator Model
T51P
Construction
ABS plastic indicator, stainless steel removable weighing platform, aluminum loadcell, painted steel mounting bracket and base construction
Weighing Units
lb, oz, lb:oz, kg, g, custom unit
Modes
Static Weighing, Dynamic Weighing, Counting, Checkweighing, Percent Weighing, Display Hold
Display
1 in / 25mm high 6-digit, 7-segment bright white backlit LCD
Keyboard
4-button membrane switch
Stabilization Time
Within 2 seconds
Auto-zero Tracking
Off, 0.5, 1 or 3 d
Zeroing Range
2% or 100% of capacity
Calibration Span
1 kg or 1lb to 100% of capacity / 3-point linearity (0 - 50% – 100% fixed)
Power
100-240 VAC / 50-60Hz internal universal power supply, 6 'C' cell batteries (not supplied) with 80 hour life
Interface
RS232 and external input
Operating Temperature Range
14°F to 104°F / -10°C to 40°C