The Floor Hugger above-ground platform scales provide the latest in weighing technology. These models are ideal for all types of manufacturing, food and chemical processing, and shipping-receiving operations where a heavy-duty floor scale is needed. The unique load cell assemblies are self-checking, incredibly well-protected, and environmentally sealed for those less-than-perfect locations. Other design features include a rigidly constructed weighbridge with easy-to-remove optional ramps. When necessary, the entire scale can be conveniently lifted, moved, and re-installed as your production and traffic flow needs change.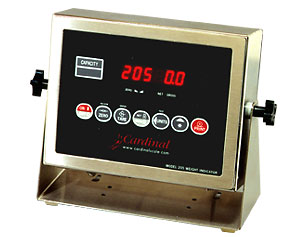 The 205 can be paired with bench scales, heavy-duty floor scales, or even motor truck scales. State-of-the-art flash technology is employed which allows the indicator's program to be updated on-site. Dual serial ports provide easy connectivity to a remote display, label printer, ticket printer, or PC.
The stainless steel NEMA 4X/IP66 enclosure on the 205 ensures accurate, reliable operation in harsh environments and washdown applications. The easy-to-view display, with bright red LED segments, displays weight to six digits.
MODEL

PLATFORM SIZE

APPROX. SHIPPING WEIGHT

Capacity: 1,000 lb x .2 lb (454 kg x .09 kg)

FH-133-II-205

3' x 3'
(.9 m x .9 m)

165 lb (75 kg)

FH-144-II-205

4' x 4'
(1.2 m x 1.2 m)

240 lb (109 kg)

FH-155-II-205

5' x 5'
(1.5 m x 1.5 m)

330 lb (150 kg)
Dimensions
X:
38.00
Y:
42.00
Z:
10.00