Detecto Stainless Steel Digital Medical Scales
currently in stock
Physical Wt: 36 lbs, Shipping Wt: 70 lbs. (estimate shipping cost)
Other Medical Scales
Other Detecto scales
Compare Digital Medical scales


Now, for the first time, you can combine the state-of-the-art, EMR-ready Detecto physician scale with the time-honored beauty and protection of stainless steel. Enjoy the classic elegance of stainless steel in your Detecto digital scale.

With an ultra-modern design, Detecto's stainless steel digital health care scales offer an extra-tough finish which stands up to water damage from mopping around the base and high-humidity areas such as locker rooms. Enjoy the power of digital weighing with the convenience of "at-a-glance" weight readouts and an AC or battery-powered LCD display. With the push of a button, readings appear in pounds OR kilograms.
Detecto's waist-level digital physician scales are available with or without a digital or mechanical height rod. Equipped with a MedVue indicator designed for optimum performance and utilizing Detecto?s unique 1LOOK feature which display height, weight and BMI simultaneously by simply raising the digital height rod while a patient is being weighed on the physician scale. All of this data may be output to a printer or PC for EMR/EHR via serial, USB, or optional wired or W-Fi Ethernet communications. 6 AA batteries (not included) or optional AC adapter. 500 lb x 0.2 lb / 225 kg x 0.1 kg capacity

Features:
Model
8430S
8437S
Capacity x Readability
500 lb x 0.2 lb
225 kg x 0.1 kg
Platform Size
10.5 in W x 14.5 in D
27 cm W x 37 cm D
Height Rod
Yes
No
CONNECTIVITY
RS-323, USB, and optional Wi-Fi
Display
5 digit, seven segment, 7/8 inch (22.23 mm) high LCD weight digits
POWER
6 ?AA? cell Alkaline, Ni-Cad or NiMH batteries (not included) OR an optional 12 VDC 1.25A wall plug-in AC power adapter (Detecto part number MV1PWR)
Detecto MV1 MedVue Medical Weight Analyzer Indicator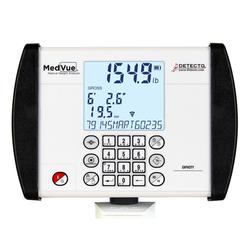 Detecto's MedVueŽ medical weight analyzer is utilized on select clinical scales. The MedVueŽ features a striking blue 3.5-in-wide by 3-in-high backlit LCD display screen with nearly 1-in-high weight digit readouts for easy visibility. The MedVue?s 350-degree swivel mounting bracket allows the display to be tilted and rotated into position wherever it is the most convenient for the medical professional and/or patient to view. A host of other benefits include 14-digit patient ID which may be entered via the alphanumeric keypad, 99 stored tare weights, 200 stored transactions, 1LOOK display, and four different languages available in set-up (English, Spanish, French, and German). The MedVueŽ offers a host of both wired and optional wireless connectivity for sending measurement data to
Versatile Connectivity - DETECTO's MedVue medical weight analyzer offers a host of different options, both wired and optional wireless, for DETECTO scales to connect with multiple devices for efficient EMR/EHR. Connect with:
Printers
PCs
Networks
Tablets
Bar Code Scanners
Even Mobile Phones
BENEFITS OF WI-FI CONNECTIVITY - DETECTOs MedVue offers optional Wi-Fi connectivity with up to 20 ft. range (varies depending upon environmental conditions). Wi-Fi offers a number of benefits over Bluetooth, including greater range and security.


Almost every MedVue port may be used simultaneously (with the exception of Ethernet and Wi-Fi connections). For instance, a printer could be connected to the serial port, PC connected to the USB port, while a tablet is connected via Wi-Fi all at the same time. DETECTOs model P50 printer offers plug-and-play compatibility with the MedVue
350-Degree Swivel Mounting Bracket - Enjoy freedom of movement wherever you need to position the display with the MedVues 350-degree tilt-and-swivel mounting bracket.
EASY SET-UP NAVIGATION - DETECTOs MedVue indicator features a tiered menu system with up/down navigation controls to quickly update any settings you wish to change, such as converting to kilograms-only weighing or lowering the backlight intensity to make the batteries last longer
MULTIPLE LANGUAGE SETTINGS - DETECTOs MedVue features user-prompting in four different languages:
English
Spanish
French
German
14-Digit Patient ID
350-Degree Swivel Mounting Bracket
6 AA Batteries (not included)
99 Stored Tare Weights
BMI Calculation
EMR/EHR Ready
Nearly 1-in-High Weight Readouts
NTEP Legal for Trade
RS232 Serial and USB Ports Standard
Sturdy Steel Construction
Wi-Fi and Ethernet Optional