The suprisingly lightweight design and built-in handles and wheels make Detecto's BRW1000 "Roll-A-Weigh" Scale capable of being moved wherever you need it for bariatric weighing. Whether?s it?s multiple weighing locations at a single facility or a stationary location, the ?Roll-A-Weigh? gives you portability, ease of use and accuracy.
Designed for bariatric weighing ?on-the-move?, this portable scale features a MV1 digital weight indicator that can be mounted on the scale, or remotely on a wall, or desk for convenient viewing. Heavy-duty construction, large rubber deck safety plate platform with integral ramp, and the 1,000 lb capacity makes this the perfect scale for weighing patients in manual or power wheelchairs, dialysis patients, or walk-ons.
Accommodating up to 40 inch (101 cm) wide wheelchairs, the American-made BRW1000 provides everything required for weighing bariatric patients. For added comfort, a patient may be wheeled onto the scale and the chair tare weight keyed in for an easy weighing. Heavy-duty, extra-large platform measuring 40 x 30 inch (101 x 76 cm) with integral ramp, and 1,000 lb capacity makes this scale perfect for patients in manual or power wheelchairs, dialysis patients, or walk-ons. EMR/EHR ready with serial, USB, and optional Wi-Fi Ethernet connectivity.
Features:

The BRW1000's integral handles make it easy to lift and lower into position. Built-in wheels permit the scale to be rolled anywhere it's needed.
The extra-wide platform easily accommodates bariatric wheelchairs up to 40" wide.
Detecto MV1 MedVue Medical Weight Analyzer Indicator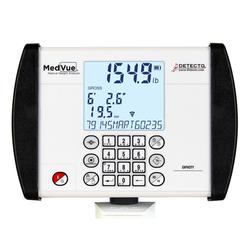 Detecto's MedVueŽ medical weight analyzer is utilized on select clinical scales. The MedVueŽ features a striking blue 3.5-in-wide by 3-in-high backlit LCD display screen with nearly 1-in-high weight digit readouts for easy visibility. The MedVue?s 350-degree swivel mounting bracket allows the display to be tilted and rotated into position wherever it is the most convenient for the medical professional and/or patient to view. A host of other benefits include 14-digit patient ID which may be entered via the alphanumeric keypad, 99 stored tare weights, 200 stored transactions, 1LOOK display, and four different languages available in set-up (English, Spanish, French, and German). The MedVueŽ offers a host of both wired and optional wireless connectivity for sending measurement data to
Versatile Connectivity - DETECTO's MedVue medical weight analyzer offers a host of different options, both wired and optional wireless, for DETECTO scales to connect with multiple devices for efficient EMR/EHR. Connect with:
Printers
PCs
Networks
Tablets
Bar Code Scanners
Even Mobile Phones
BENEFITS OF WI-FI CONNECTIVITY - DETECTOs MedVue offers optional Wi-Fi connectivity with up to 20 ft. range (varies depending upon environmental conditions). Wi-Fi offers a number of benefits over Bluetooth, including greater range and security.


Almost every MedVue port may be used simultaneously (with the exception of Ethernet and Wi-Fi connections). For instance, a printer could be connected to the serial port, PC connected to the USB port, while a tablet is connected via Wi-Fi all at the same time. DETECTOs model P50 printer offers plug-and-play compatibility with the MedVue
350-Degree Swivel Mounting Bracket - Enjoy freedom of movement wherever you need to position the display with the MedVues 350-degree tilt-and-swivel mounting bracket.
EASY SET-UP NAVIGATION - DETECTOs MedVue indicator features a tiered menu system with up/down navigation controls to quickly update any settings you wish to change, such as converting to kilograms-only weighing or lowering the backlight intensity to make the batteries last longer
MULTIPLE LANGUAGE SETTINGS - DETECTOs MedVue features user-prompting in four different languages:
English
Spanish
French
German
14-Digit Patient ID
350-Degree Swivel Mounting Bracket
6 AA Batteries (not included)
99 Stored Tare Weights
BMI Calculation
EMR/EHR Ready
Nearly 1-in-High Weight Readouts
NTEP Legal for Trade
RS232 Serial and USB Ports Standard
Sturdy Steel Construction
Wi-Fi and Ethernet Optional