| | | |
| --- | --- | --- |
| CL-5000B | CL-5000R | CL-5000H |

The CL5000 Label Printing Scale has the functions you need at an affordable price. Includes CL-Works software package. Use in supermarkets, specialty stores, deli's and more!




Legal for Trade

Features


60 lb Capacity Dual Range
Standard: 3,000 PLU?s & 1,000 Ingredients
Optional: 10,000 PLU?s & 1,500 Ingredients
Speed Keys: CL5000B: 96 (48 keys x 2) - CL5000R: 144 (72 keys x 2) CL5000H: 144 (72 keys x 2)
50 Standard Label Formats/Up to 20 Custom Labels
High Speed Thermal Printer
Flash ROM for easy firmware upgrades
Multiple barcode formats English, Chinese, Korean, or Spanish Characters
Menu Code System
CL-Works Software Package Included - PLU Editor - Label Editor - Keypad Editor - Compatible with Microsoft Windows® 2000/XP/Vista/WIN 7/WIN 8/WIN 10
Legal for Trade - COC # 07-042A2

Options:

Ethernet or Wireless Networking - Expanded Memory
Full Body Protective Cover
Fish Pan
Remote Platform
Label Cartridge

Model
CL5000B
CL5000B-60(W)
CL5000B-60(NE)
CL5000R
CL5000H
Price
Weighing Capacity
Dual Range
30 x 0.01 lb and 60 x 0.02 lb
15 kg x 5 g and 30 kg x 10 g
Legal for Trade
COC # 07-042A2
Interface
RS-232C
WIFI, RS-232C
Ethernet, RS-232C
RS-232C
RS-232C
Platter Size (inch/mm)
15 (W) x 9.6 (D) / 381 (W) x 244 (D)
15.3 (W) x 11.06 (D) / 389 (W) x 281 (D)
Dimensions (inch/mm)
16 (W) x 17 (D) x 6.8 (H)
406.4 (W) x 432 (D) x 173 (H)
16 (W) x 17 (D) x 23.9 (H)
406.4 (W) x 432 D) x 607 (H)
16.5 (W) x 11.06 (D) x 27.8 (H)
420 (W) x 281 D) x 706 (H)
Product Weight
24 lbs (10.9 kg)
25 lbs (11.3 kg)
31.3 lbs (14.2 kg)
Measurement Type
Load Cell
Display Type
VFD & Alphanumeric
Display Digit
4/4/6/6 - Tare/Weight/Unit Pr/Total Pr
Weight Units
Lb or kg
Printer
Thermal Print
Label Size
Width: 40mm ~ 60mm
Length: 30mm ~ 120mm
Barcode Formats
UPC, UPC13, EAN13,EAN13+5,I2of5, Code128, Code93, Codabar, and more.
Keyboard Interface
PS/2
Power Source
AC 100~240V, 50/60Hz
Operating Temperature
-10°C ~ 40°C / 14°F ~ 104°F
Speed Keys
96 (48 keys x 2)
144 (72 keys x 2)
144 (72 keys x 2)
Label Formats
50 Standard / 20 Custom
Characters
English, Chinese, Korean, or Spanish

Display
The VFD display is used for displaying Tare, Weight, Unit Price and Total Price. The Alphanumeric Display is used for all program menus, PLU names, scrolling message, etc. The bright purple display gives high legibility for programming and promotion.

PLU Keys
The Double Click Call feature allows the operator to recall PLU s by double-clicking the speed key instead of having to use the shift key.

The Standard Bench Model comes with 96 total speed keys, while the Pole Model & Hanging Model comes equipped with a total of 144 Speed Keys.
Label Formats
The CL 5000 comes with 50 preset common label formats stored in memory. Up to 20 more custom label formats can be added using the label editing function of the CLWorks software program. Various die cut or continuous label sizes up to 120mm in length can be used.
PRINTER & LABEL CARTRIDGE
Achieve print speeds up to 100 mm/sec and print resolution of 202 dpi for crisp clear labels. The removable label cartridge makes it easy for users to quickly reload labels. Designed for simplicity.

CL WORKS - PC SOFTWARE
The CL Works software program allows you to create and edit PLUs, program store information, design custom labels and unique keyboard layouts and much, much more. Compatible with Microsoft Windows® 2000/XP/Vista/WIN 7/WIN 8/WIN 10


PLU Editor
Easy PLU Management control for all scales. PLU?s can be imported and exported easily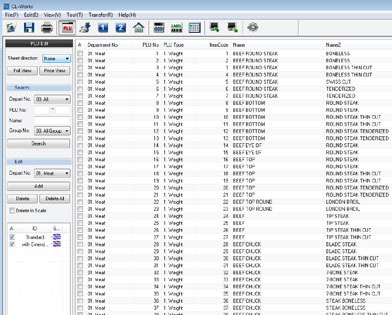 Label Editor
Create and edit custom label formats. Easily download your custom labels to the scales (Now including Nutrition Facts Label)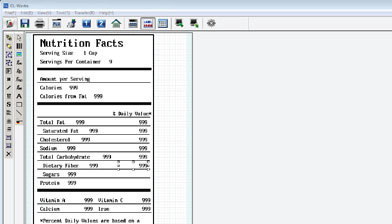 Keypad Editor
Setup and download custom keyboard designs. Use color images in your keys for easy recognition.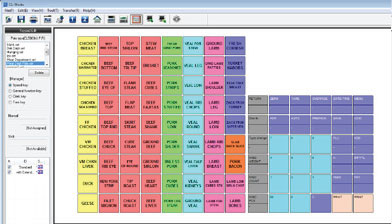 OPTIONAL NETWORKING

TCP/IP Communication Protocol
Up to 99 Scales
IEEE 802.11B Specification Wireless Network
64/128 bit WEP Security system
1 to 1, Multi to Multi. Wired/Wireless Network
Network structure suitable for large, medium or small markets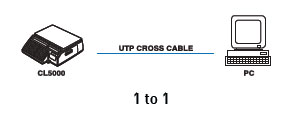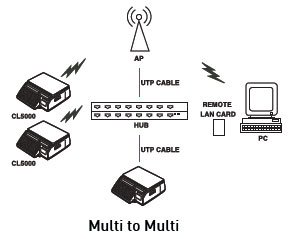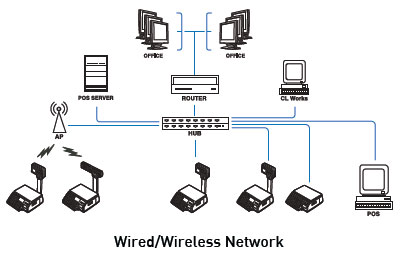 Label #
CAS Part #
Label Type
Label Size
Labels per Roll
Price Per Roll
Price Per Case
(12 Rolls)
LST-8000
600-0002
Non-UPC
58 x 30 mm
1000
$8.00
$60.00
LST-8010
600-0001
UPC
58 x 40 mm
700
$8.00
$60.00
LST-8020
600-0005
Ingredient
58 x 60 mm
500
$8.00
$60.00
LST-8030
600-0003SH
Non-UPC Safe Handling
58 x 50 mm
600
$8.00
$60.00
LST-8040
600-0004SH
UPC Safe Handling
58 x 60 mm
500
$8.00
$60.00
LST-8051
LST-8051
Continuous Strip
58mm x 100`
-
-
$75.00