SC Series Stainless Steel

SE Series Mild Steel

| | |
| --- | --- |
| | |
| Legal For Trade | Canada Measurement Legal |

Specifications Chart



The SC/SE Series bench scale is constructed with a completely sealed indicator and a washdown base that meets IP68 standards. It provides exceptional performance with a stabilization speed of just 1 second!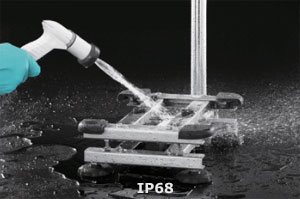 IP68 dust and water-proof
Washdown construction for easy cleaning
4500 hours of continuous operation with 6 D batteries1
Supersized LCD of 39 mm character height
Easily switchable, multiple weighing units (kg, lb, oz, and pcs)
Stabilization speed of 1 second
Stainless steel weighing pan
Waterproof and corrosion-resistant load cell2
Quick USB interface3 or RS-232C + comparator relay output available as options
2 Year Warranty
1) Batteries are not included.
2) Aluminum anodized and coated with epoxy resin with protective silicon over wiring.
3) Cables are not included

Note: SCE-02 and SCE-03 cannot be used at the same time. The SC/SE is not IP68K compliant with SCE-02 or SCE-03.
Stainless Steel
Construction
Models
SC-30KAM
SC-60KAM
SC-150KAM
SC-60KAL
SC-150KAL
$1,035.00

$1,055.00

$1,080.00

$1,105.00

$1,135.00

Mild Steel
Construction
Models
SE-30KAM
SE-60KAM
SE-150KAM
SE-60KAL
SE-150KAL
$660.00

$700.00

$735.00

$735.00

$770.00

Capacity X Readability
66 lb x 0.01 lb
130 lb x 0.02 lb
330 lb x 0.05 lb
130 lb x 0.02 lb
330 lb x 0.05 lb
30 kg x 0.005 kg
60 kg x 0.01 kg
15 0kg x 0.02 kg
600 kg x 0.01 kg
150 kg x 0.02 kg
Legal For Trade
NTEP (CC No. 11-048)
Measurement Canada (Approval No. AM-5827)
Repeatability (Std. deviation)
0.005 kg
0.01 kg
0.02 kg
0.01 kg
0.02 kg
Linearity
±0.01 kg
±0.02 kgb
±0.05 kg
±0.02 kg
±0.05 kg
Sensitivity drift
±20 ppm / °C (5°C to 35°C / 41°F to 95°F)
No. of samples
5 pieces (can be changed to 10, 20, 50 or 100)
Max. count
60,000 pcs
60,000 pcs
75,000 pcs
60,000 pcs
75,000 pcs
Min. unit weight
0.0005 kg
0.001 kg
0.002 kg
0.001 kg
0.002 kg
Units of Measure
lb, oz, kg
Display
7 segment LCD display (character height 39 mm)
Display update
10 times per second
Operating temp.
-10°C to 40°C / 14°F to 104°F, 85% R.H. or less (non-condensing)
Power supply
Size D batteries x6, Approximately 4,500 hours using alkaline batteries (models are battery power only)
Weighing pan size
300 x 380 mm
11.8 x 15 in.
390 x 530 mm
15.4 x 20.9 in.
Dimensions SC
300(W) x 543(D) x 717(H) mm
11.8(W) x 21.4(D) x 28.2(H) in.
390(W) x 688(D) x 717(H) mm
15.4(W) x 27.1(D) x 28.2(H) in.
Dimensions SE
300(W) x 582(D) x 722(H) mm
11.8(W) x 22.9(D) x 28.4(H) in.
390(W) x 732(D) x 722(H) mm
15.4(W) x 28.8(D) x 28.4(H) in.
Weight (approximately)
26.5 lb /12 kg
35.3 lb / 16 kg
Calibration weight
60 lb
30 kg
120 lb
60 kg
300 lb
150 kg
120 lb
60 kg
300 lb
150 kg